Instructions
Enter Lumina. Go to the Shopping District and enter the item shop. Talk to Niccolo and agree to help him.
Enter the Mindas Ruins and follow these instructions:
Note: These instructions need an overhaul!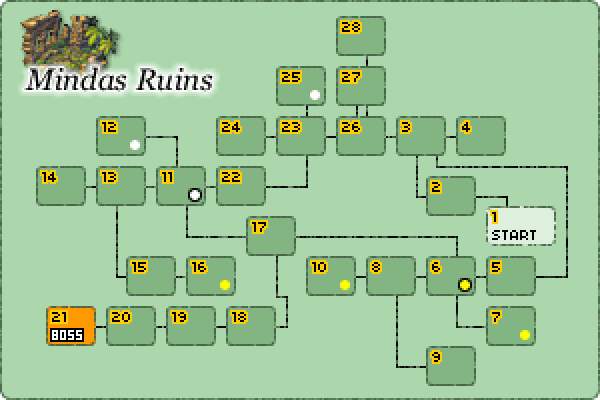 Up
Upper Left
Left
Left
Up
Set the Flowerlings to be in the Upper Left and Lower Right
Down
Lower Left
Upper Left
Lower Left
Left
Upper Left
Niccolo will chase the Psychokinesis dude until it runs away. Now you have to get out of the Ruins. Follow these instructions:
Right
Lower Left
Right
Set the Bottom Flowerling to be in the Right
Left
Left
Right
Upper Left
Set the Bottom Flowerling to be in the Left
Lower Right
Lower Right
Right
Lower Left
Upper Left
Set the Top Flowerling to be in the Left
Right
Right
Upper Right
Lower Left
Right
Upon Completion: Return home, talk to Lil' Cactus, go downstairs (watch him write the Event on the leaf), and go back upstairs to save your game before continuing.